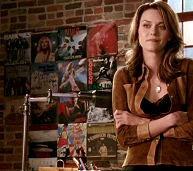 As Tree Hill's hardcore lover of all things music, new and old, rock and hip hop, it's safe to say that the character of Peyton Sawyer Scott has informed you of some artist or band that has made their way into your musical library after you completely fell in love.

When Peyton opened her independent label, Red Bedroom Records, her office reflected her style and musical taste. One of the stand-out designs in Peyton's office was the collection of album covers that hung on the wall behind her desk. We've received many emails from fans who were not only inspired by Peyton's music taste, but her decorating skills as well. If you're a fan of Peyton's wall collage of records and would like to know the artist/album for each...check out the list we compiled for you below!
[ OTH MUSIC @ MYSPACE ]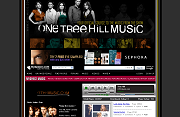 Make sure you add the Official OTH Music Guide on MySpace! Get quick updates about music on the show, exclusives and check out some of the scores from seasons three and four from composer John Nordstrom!