#1.03 - "Crash Into You"
Prod. #177503 (Original Air Date - 10/14/2003)
Haley convinces Lucas to go with the team to an after-party at Nathan's beach house in the hopes that the guys will become closer. When Lucas sees the wealth that was denied him, he finally confronts his mother about why she let Dan ignore them. Meanwhile, when Nathan's mom returns home to find a very angry son, she turns to Karen for advice.

"Shake It Down" - Bosshouse
Official Site: http://www.bosshousemusic.com

Scene: Nathan stops Haley from leaving the party.



Music from this company can also be heard in episodes #1.00, #1.01, #1.02, #1.06, #1.07, #1.15, #1.21, #1.19, #2.02, #2.20, #2.23, #3.08, #3.07, #4.08, #4.14, #4.16 & #4.17.
[ OTH MUSIC @ MYSPACE ]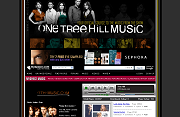 Make sure you add the Official OTH Music Guide on MySpace! Get quick updates about music on the show, exclusives, and check out some of the scores from seasons three and four from composer John Nordstrom!