#3.07 - "Champagne For My Real Friends, Real Pain For My Sham Friends"
Prod. #2T6157 (Original Air Date - 11/16/2005)
As the fantasy draft dates begin, Brooke finds herself on an unusual double date, while Lucas gets closer to Rachel. Mouth spends time with an old friend and Peyton regrets choices she makes with Ellie. Karen and Deb take their campaigning to new heights.

"Let It Fall" - Bosshouse
Official Site: http://www.bosshousemusic.com

Scene: Karen and Deb climb the ladder to ruin Dan's billboard.



Music from this company can also be heard in episodes #1.00, #1.01, #1.02, #1.03, #1.06, #1.07, #1.15, #1.21, #1.19, #2.02, #2.20, #2.23, #3.08, #4.08, #4.14, #4.16 & #4.17.

"Good As Gold" - Bleach
Album: Farewell Old Friends (Tooth & Nail)
Official Site: Bleach @ ChristianMusic.com

Scene: Peyton & Mouth take Mal go-karting. Skills and Bevin have their date.

"Your Ghost" - The New Amsterdams
Album: Story Like A Scar (Vagrant)
Official Site: http://www.newams.net
MySpace: http://www.myspace.com/thenewamsterdams

Scene: Lucas & Rachel have their date at the rivercourt. / Nathan and Haley talk on the balcony. / Brooke and Chris toast to her designs, and Karen and Deb get their ladder.


This song is also heard in episode #3.21.


This band is also heard in episodes #1.08, #3.10 & #5.06.
[ OTH MUSIC @ MYSPACE ]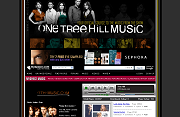 Make sure you add the Official OTH Music Guide on MySpace! Get quick updates about music on the show, exclusives, and check out some of the scores from seasons three and four from composer John Nordstrom!