#3.21 - "Over The Hills and Far Away"
Prod. #2T6171 (Original Air Date - 04/26/2006)
It's the weekend of the Coastal Classic, and with Lucas, Nathan has to step up on the court against an old rival who shows an interest in Haley. Brooke and Mouth plot revenge against Rachel while Dan goes head to head with Nathan's Uncle Cooper. Also, Peyton makes a life-altering decision.

"Middle of Nowhere" - Hot Hot Heat
Album: Elephant (Sire/London/Rhino)
Music From the TV Series "One Tree Hill" Volume II: Friends With Benefit (Maverick)
Official Site: http://www.hothotheat.com
MySpace: http://www.myspace.com/hothotheat

Scene: The Reenactment of Nathan and Haley's love begins at their rehearsal dinner.

"Be Gentle With Me" - The Boy Least Likely To
Album: The Best Party Ever (Too Young to Die)
Official Site: http://www.theboyleastlikelyto.co.uk

Scene: Their friends act out Naley's love in their "play."
[ OTH MUSIC @ MYSPACE ]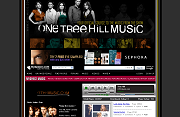 Make sure you add the Official OTH Music Guide on MySpace! Get quick updates about music on the show, exclusives, and check out some of the scores from seasons three and four from composer John Nordstrom!